Hollow Beads with Christine Dumont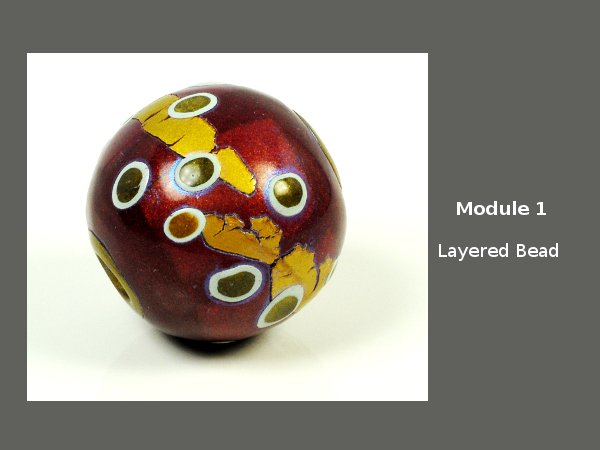 € 43.00 (approx. USD $46.00)


What you get for the price:
over 60 minutes of filming

view the videos in your own time

online support and guidance
Please note:
The videos are spoken in English.
Detailed pdfs in English and French.
In this video-tutorial, Christine shows you how to make hollow beads built using the support of a paper ball. Here's the Tutorial Plan:
Module 1 covers the basic construction method for a spherical bead and shows how to decorate your beads using clay layering and cane slices. Specifically, you will learn how to:
make a spherical bead and line the thread holes
decorate a bead by layering and distressing clay
decorate a bead by layering clay and working with cane slices.
Module 2 shows you how to create you beads with veneers and how to shape the asymmetrical pod bead. Specifically, you will learn how to: a) create the stripe veneer b) create the Strata veneer c) create the Cellularia veneer d) construct a Pod Bead in any of the above veneers
Module 3 shows you an entirely new way of constructing a spherical bead. Specifically you will learn how to:
create a seamless beads
create a seamless bead with inlays
create a seamless bead with florets.
Clay: The tutorial uses Kato clay as it is strong and its translucent clay provides a beautiful shine when properly sanded and polished. However similar results can be obtained using other clays like FIMO and Pardo.
To obtain a glass-like finish, use translucent clay tinted either with concentrates or pigment. Hollow Beads are addictive. Assess your requirements and buy enough
If using Kato clay: Black: 1 small pack White: 1 small pack Colour concentrates: 1 color set (it comes as a set of 4 colours in 4oz quantity). This can be replaced with pigment Gold: 2 small blocks or any metallic of your choice Translucent: 1 large pack at least
If using other clays: Black: 1 small pack White: 1 small pack Gold: 2 small blocks or any metallic of your choice Translucent: 4 small packs Pigment Other colours of your choice
Cotton/Paper Balls: 30mm diameter. These are easily available in local or online craft stores.
For USA, try https://www.smilemercantile.com/products/spun-cotton-balls?variant=12106527815
Blades: 1 flexible and 1 rigid
Cutters: You will need a set of round cutters in approximately 10mm and 18mm diameter. You will also need an assortment of smaller round cutters in approximately 4mm and 6mm
Knitting needles: an assortment of needles 3.5, 4.5, 5.5, 6.5 mm. If you need to buy some, metal ones are preferable to plastic
Interference pigment such as Pearl-Ex Interference Blue
Rollers: a regular acrylic roller and a narrower roller approximately 20mm diameter. A length of rigid plastic tubing from a hardware store is fine
Pasta Machine, needle or piercing tools.
When you purchase a tutorial, you will be admitted to a Facebook Group where you can receive guidance from Christine's on techniques and materials so that you will be able to make the most out of the tutorial.
Participate, learn from others and share your knowledge!
When you purchase this video you agree to the following:-
You have permission to sell work using the techniques taught in this tutorial and are encouraged to create your own designs.
This website and its content are copyright Christie Dumont, ©Christine Dumont 2023. All rights reserved. You do not have permission to redistribute or reproduce part or all of the contents in any form other than the following:
You may, for your personal and non-commercial use only, print or download to a local device only the pdfs that are part of a tutorial you have purchased;
You may not, except with our express written permission, distribute or commercially exploit the content.
For testimonials, click here.